Reduced Pricing Philosophy
I believe in making the educational resources of Demystifying Silicon Valley available to all serious potential innovators, investors, and entrepreneurs who will use the tools taught here diligently. I offer reduced pricing to those starting out in their careers (students who attend an accredited institution at least half time, as well as anyone 24 years old or younger), to teachers at an accredited educational institution, and to entrepreneurs and staff members of the Endeavor Global network, a non-profit which promotes high impact entrepreneurship in markets that need it most, primarily in emerging countries.
I also offer reduced pricing based upon economic circumstances, such as income below 200% of the U.S. poverty level, or unemployment or other circumstances where paying the full price would impose undue financial hardship. I will never forget the feelings of humiliation of exclusion during times in my life when I could not afford the opportunities taken for granted by those around me. I do not want you to feel that either. I suppose it is true: you can take the kid out of poverty, but never the memory of poverty out of the kid. 
Scope of Reduced Pricing
Reduced pricing requests are only valid on Gold Memberships, individual courses, and certificate programs, but not for Platinum Memberships or professional sequence classes. You may continue to renew at the reduced price provided you continue to qualify at the end of each renewal period.
My Ask of You
I will ask you to certify that the information you provide is correct. Further, I will ask you to certify that, as a moral condition of this request, you will in the future mentor or otherwise help another entrepreneur in need when you are able to do so. I will not seek to legally enforce this obligation, but if you ask my time and this community's time in your hour of need, your moral debt is to pay it forward and help someone else when you are capable of doing so. In lieu of mentoring in the future, you may repay this moral debt when you are financially able by making a donation of the amount of your price reduction to a valid charity or non-profit which helps teach innovation or entrepreneurship skills to an underserved community. I suggest Htmelle.org, which teaches design thinking, cognitive science, and coding to middle school and high school girls.
Preapproved Requests
If you meet the following conditions, you are preapproved and need only enter the coupon code in the COUPON CODE field in the checkout (not cart). Your entry of the coupon code is certification that you meet the criteria and have read and understand and acknowledge what I wrote above.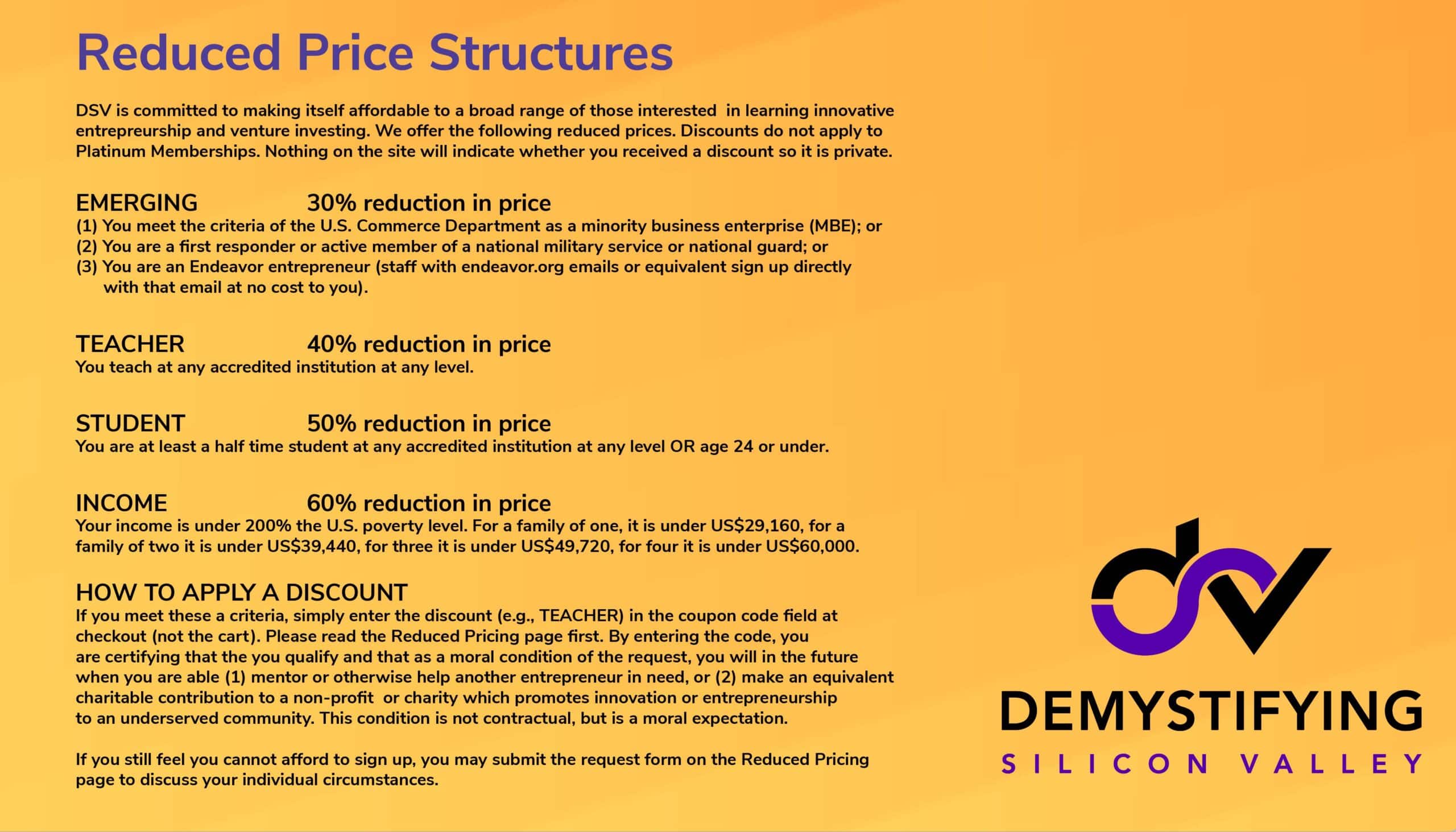 Other Requests
If you still feel you cannot afford to sign up, you may submit the request form below to discuss your individual circumstances. I will notify you when I grant your request. The offered reduced price will be reflected during the Gold Membership checkout process when you next login to your account. There are no coupon codes to apply. Your request for a reduced price will not be displayed or shared.

You must create an account which has been email verified to complete the request form. You may sign up here.
Thank you for wanting to become part of our community. As always, contact me directly if you have any questions.
David
Request Form
Please complete the following form and submit it:
YOU ARE NOT LOGGED IN. The reduced pricing form is only displayed to logged in users. Please create a free account (the Sign Up button, top of this page) or login if you have created an account. (All free accounts include access to a special free course and our weekly newsletter, which you may opt out of.)